Panellists announced for DSF Annual Meeting
27/09/2023
Panellists announced for DSF Annual Meeting
The DSF is excited to announce the panel of dairy supply chain experts from across the globe and more detail on the panel members can be found below. Moderated by Jay Waldvogel, Dairy Farmers of America, the panel will share their insights on where the main sustainability challenges are for dairy in the fast moving sustainability space and how the sector can collectively keep ahead of these developments. Introducing our panellists: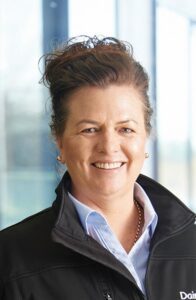 Tracy Brown, New Zealand Dairy Farmer and DairyNZ Board Member. Tracy and her husband have been dairying on their Waikato farm for 25 years. Tracy has been involved in leading environmental change for dairy through her roles as DairyNZ Dairy Environment Leaders Chair, Balance Farm Environment Awards Alumni Chair and as a Dairy Women's Network Trustee. She has been leading environmental change for a decade, building relationships and empowering farmers to lead and find regional solutions.
Marilyn Hershey , U.S, Dairy Farmer & Chair of Dairy Management Inc. Marilyn and her husband own and operate Ar Joy Farms, LLC in Pennsylvania. Environmental stewardship is a priority for the Hershey's and the have many on-farm practices that converse water and soil, reducing their carbon footprint. Marilyn received the prestigious "Soul of Rurality" award from the Inter-American Institute for Cooperation on Agriculture for her leadership of the Dairy Checkoff's global efforts on behalf of American dairy farming families. She was recognised as World Dairy Expo's Dairy Woman of the Year (2017), honoured by Corteva Agriscience on International Day of Rural Women as one of ten women recognised from around the world for her leadership in agriculture.
Dr Meenesh Shah, Chairman National Dairy Development Board of India. Dr Shah has a wide international exposure and within IDF is the Member Secretary of Indian National Committee, Member of the Standing Committee on Dairy Policies and Economics, Member of the Task Force on Women in Dairying and Food Systems. He is widely acclaimed most recently for the successful organisation of the World Dairy Summit in India last year. He has an illustrious and multifaceted career of more than 38 years in the dairy sector. Dr. Shah is also a DSF Governor representing Dairy Asia.
Hanne Søndergaard, Executive Vice President/Chief Agriculture, Sustainability and Communications Officer at Arla Foods, Denmark. Hanne is the voice of Arla farmers across the world, championing their efforts to be evermore sustainable and driving Arla's innovation in the space through science, research and data. She is recognised as a driver of change within the dairy industry, transforming opportunities for the more sustainable farming practices into long-term value for farmers, customers and consumers alike. Hanne has been at Arla Foods for more than three decades and is Deputy chair of GDP, a board member of the Arla Foundation, the Danish Agriculture and Food Council, The Danish Climate Forest Fund and DTU (Technical University of Denmark).
Dr Thanawat Tiensin, Director of Animal Production & Health Division, Food and Agriculture Organisation, Italy. Recently appointed to this post, Dr Tiensin previously served as Permanent Representative of the Kingdom of Thailand to the Rome based Agencies (FAO, IFAD, WFP). He has served in several FAO Governing Bodies and Committees such as chairperson of the Committee on World Food Security, Chairperson of the Global Soil Partnership, Chairperson of Asia Regional Group, Vice Chairperson of the FAO Conference and Council, Vice Chairperson of the Committee of Agriculture, Advisory Committee on the UN Food Systems. Until recently, Dr. Tiensin served as a DSF Governor representing Dairy Asia.