FAO LEAP guidelines on water footprinting released
12/12/2019
FAO LEAP guidelines on water footprinting released
This autumn the Livestock Environmental Assessment and Performance (LEAP) Partnership released the FAO LEAP guideline on Water use of livestock production systems and supply chains. The document presents principles, requirements and guidelines for water use assessments of livestock production systems and supply chains.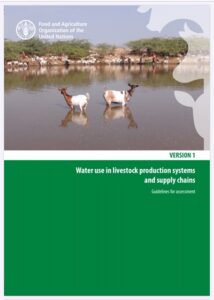 The guideline provides comprehensive recommendations to assess water scarcity footprint and water productivity in the global livestock sector, applicable anywhere in the world, based on existing standards and best practice. The document identifies different metrics providing guidance on a range of water-related issues, and thus opening the door to a broad set of solutions.
All quantitative aspects associated with water use are covered: water consumption, water productivity and contribution to water scarcity. The guidance is relevant for livestock production systems, including feed production from croplands and grasslands, and production and processing of livestock products, from cradle to gate.
The FAO LEAP guidelines on water use assessment can be used in conjunction with other FAO LEAP guidelines on feed, small ruminants, poultry, large ruminants and pig supply chains depending on the goal and scope of the assessment.
More information can be downloaded here.